While we are seeing a lot of brown hair this year, there is nothing more stunning than a red and black hair color combo. There are different color inspirations you get inspired but for now let us stick to the red and black and make a statement. You can opt for any style from ombre and balayage to minimal strand dye or highlights. When it comes to changing your hair color, it really is a careful decision as your overall look depends on that. Some of you must have thought that red must be for specific skin tone or hair texture, but let me prove you wrong here as there is no restriction when it comes to hair transformation. You can get your hair dyed with any color you adore, what you have to consider only is how you want it. While red is a tough choice for some, let me make it easy for you by guiding you quickly about it.
So, for the cool tones I would suggest going for cherry red, dark red, and pillar-box red shades. While for the warm tone I would love to see you beauties in copper red, fiery red, and reds with yellow undertones. For the caring tips, I would say that red color is high maintenance, so you have to take care of the color by opting for shampoo and conditioners that are specifically for color-treated hair so your red doesn't fade.
Red And Black Hair Color Combos To Try
While you get all the understanding on how to maintain and opt for red and black hair, let's get right into the red and black hair combos that look gorgeous on everyone.
Front Strand Red and Black Hair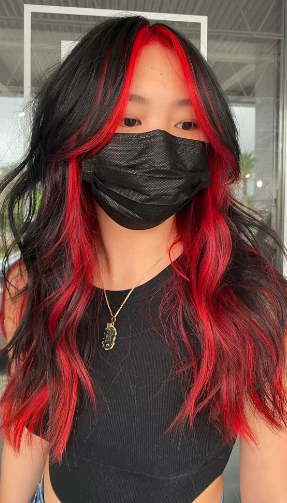 What else is gorgeous than minimalism? Well, this is the perfect example of balancing out the minimalism and boldness (what we call perfect). Keeping the top to bottom all black just a hint of red on the front strand and bottom strands is what we crave for our next hair transformation.
Half Red Half Black Hair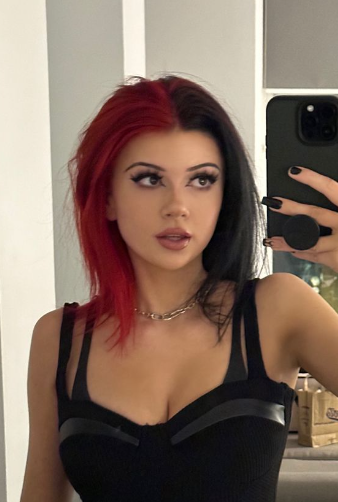 Balancing were we talking about right? Well, this is the true balancing obviously. Love the playful and fun vibe of this hair choice. Dye you half hair red from front to back, and the other half black from front to back to achieve the look.
Ombre Red and Black Hair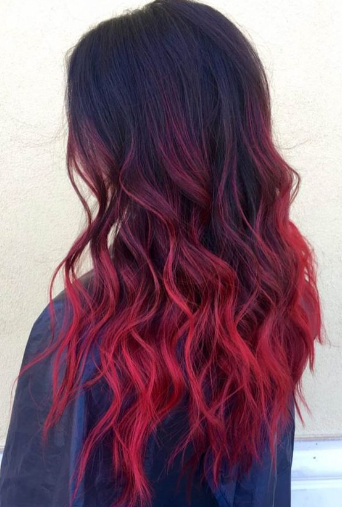 Ombre has a kind of appeal that any color can look lively if dyed right. Ombre red screams gorgeousness honestly and I cannot help but be obsessed with it. Just give your bottoms the ombre effect with red and color and keep the head and front black to balance both the colors.
Pinch of Red and Black Hair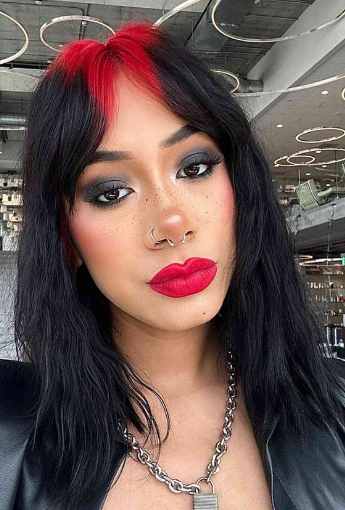 If we talk minimalism again, let all the minimals rock this hair color everywhere they go. This little at the front red looks like someone sprinkled red on the front and small section of your hair to just add a pop to your hair color.
Red Bangs and Highlights on Black Hair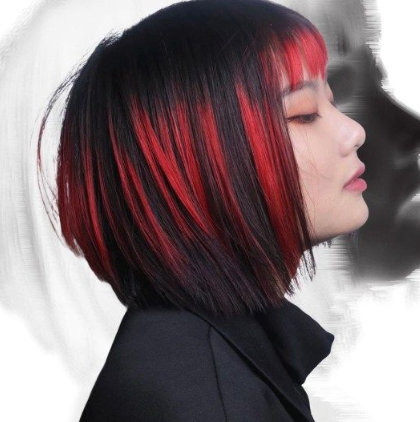 If you are a bangs girl, why not make them stand out a little more by changing their color? It's a great great choice if you really give it a thought. Dye your bangs red and let the other hair black, for a more intense and deep vibe give yourself minimal red highlights to rock the look.
Red Inside Black Outside Hair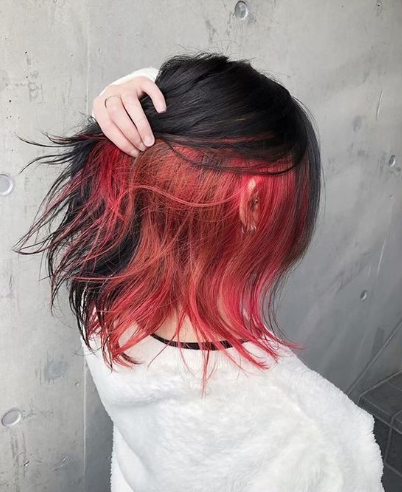 Surprise! Well, if you are someone who doesn't wanna go all in for the red and black hair trend, then you can opt for this style as it's equally trendy and easy to flaunt. Best for the days when you don't want to show your playful side you can hide them under your black hair and make them pop when you are in a mood.
Dip-Dye Red and Black Hair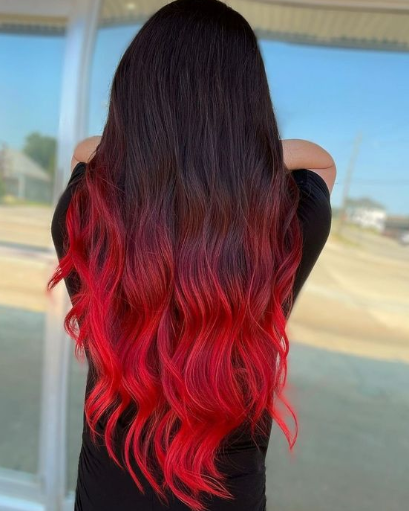 What's easier than quick and dip-dye hair transformation? Nothing, right. This one is also for the ones who want to just step into the trend but not overdo it. Keep the head black, and give yourself a dip and dye hair transformation by dipping your bottom hair in the dye and let it do the work.
Reverse Ombre Red and Black Hair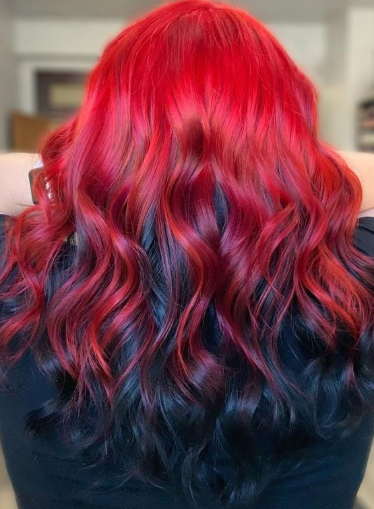 The boldest red and black hair of all, and no doubt every redhead would love this one because of its own unique appeal. The bold girls look super duper girlboss in these bold hair colors, and how you maintain this color makes you even more attractive without a doubt.
Conclusion
Bold and captivating, red and black hair color combos redefine style. From fiery reds to soft ombre's, these eight combinations celebrate individuality. Embrace the fusion of passion and mystery—because your hair deserves to tell a story as unique as you are.
UP NEXT: Stunning Brown Highlights On Black Hair For A Gorgeous look