Are you tired of wearing the same old boring leggings? Look no further, because flare yoga pants are here to elevate your style game! Not only are they comfortable, but they also add a touch of flare (pun intended) to any outfit. And guess what, you don't have to be a yoga enthusiast to rock this trend! Flare yoga pants can be styled in so many ways, from casual to chic. Pair them with a crop top and sneakers for a brunch date with your squad, or dress them up with a blouse and heels for a night out. Trust me, these pants will become your new go-to for any occasion. So, let's elevate our look and rock some flare yoga pants!
Must-Try Flare Yoga Pants Outfits
How about creating a bunch of outfits with your favorite yoga pants? (yes, you can still do yoga in them) But If you wanna take them to the next level, mix and match them with your wardrobe staples and make some great outfits out of them.
Casual Cool Flare Yoga Pants Outfit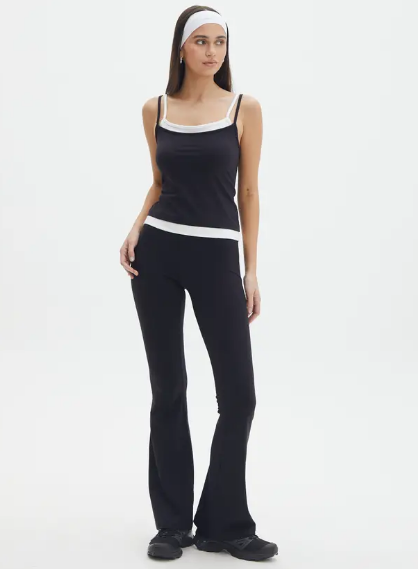 How about a classic casual girl with flare yoga pants? Well, this combo goes perfect together. This is actually really easy to achieve as well. You will need perfectly flare yoga pants that also look like crisp tailored flare pants (like this one), a tank top (or two), a headband in your hair, and what are we forgetting? A crisp pair of your favorite sneakers and ta-da you are all set for all your casual plans.
Monochromatic Flare Yoga Pants Outfit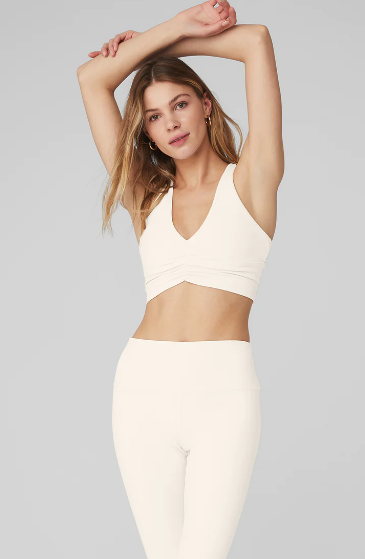 How about getting on a monochrome fashion trend with the yoga flare pants? I would love that, and I am sure you all too. Well, This one is real easy to put together as all you need is this Ivory flare yoga pants that too with a slit (extra trendy), an ivory crop top or tee, a matching handbag and the footwear depends on you. If you want a glam up look opt for kitten heels in white or beige, and if you want a relaxed footwear then step into the comfiest sneakers you own or you can also opt for loafers they are stylish yet the most comfy shoes ever.
Brunch Date Flare Yoga Pants Outfit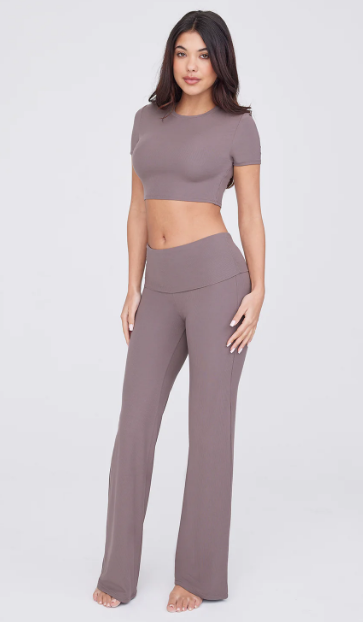 A modern twist on the flare yoga pants is this folded waist detailing with a low waist, Ahh! I think of all the cropped tops, blouses, and tees I could be able to style with this one. For achieving a perfect brunch outfit out of these pants is to pair this with a darker colored cropped top, if the top has delicate detailing or puffy sleeves it will be a plus point for sure. After that you will be needing a crossbody bag to carry all your essentials with you easily and having the best time out there. And lastly, wear heels that go well with this outfit to make it even more stylish.
Coffee Date Flare Yoga Pants Outfit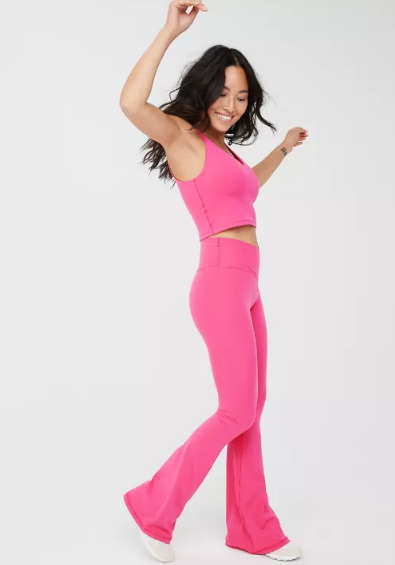 Remember when we wanted to get dressed all in pink going to watch the barbie movie? It's just like that and I had to put this on the list as it's my favorite one whether we are watching barbie or not. Pinks are always in and after the barbiecore craze we are not getting over it anytime soon. Just pair these extra flare yoga pants with any of your darker pink cropped tops to give a twist to the pink. It would be a plus-plus if the cropped top is quite oversized as it looks great with these pants and lastly wear your favorite pumps to step into style.
Romantic Dinner Flare Yoga Pants Outfit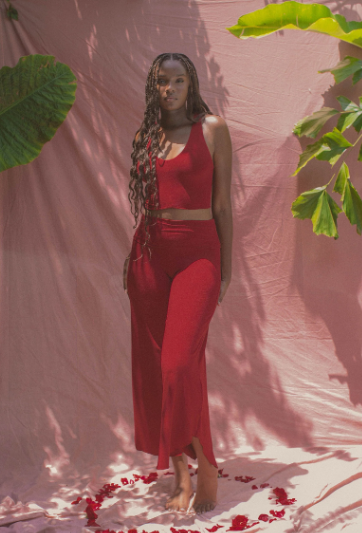 As it's currently being the hottest color of the season and the most loved color of all time, I cannot skip this one! A perfectly flared, oversized, and bold colored yoga pants is a great choice for a romantic and heartwarming dinner with your other half showing how you can slay the color of love. To style it in the best way, pair these leggings with an equally hot crop top or a red bralette Oh! Just gorgeous! Opt for strappy heels over your ankle to add an extra attraction towards your overall look and don't forget to wear your minimal gold jewelry pieces to complete the look. Extra points if you do your hair in an updo or just keep them down with a twist!
Conclusion
Okay now, are you still going to limit your yoga pants to yoga only? I have provided some great flare yoga pants outfit ideas you can pull off at different spots and occasions in the most effortless way! These look great on everyone and the best thing about them is they work all year round, no matter what the season and occasion is, just mix and match.
UP NEXT: Why Plus Size Flare Pants Are A Must-Have In Your Wardrobe