If you are a fan of plus-size casual outfits or even plus-size cargo pants, you must have an idea how a pair of classic and relaxed pants make you look and feel. All we need is THAT one pair of pants that are just too good to be true as they are relaxing like no other clothing item, trendy of all, timeless, versatile enough to wear to any occasion, and lastly its just perfect for plus size body types.
Even if you are an "It Girl" that needs nothing but Y2K trends inspired outfits, whether you want a most comfiest plus size flare pants or you need an all-glam plus size flare pants in leather, there are many ways you can style and carry plus size flare pants by owning few flare pants style that are a must have for every plus size queen. Well, what I would say is creating outfits is the easiest part if you have "that" piece, and that's what we are talking about here. We all should own at least a few of the wardrobe staples that serves us all year long without putting a lot of effort into it.
Must-Have Plus Size Flare Pants
Here are our top picks for plus size flare pants that are just too good to be true, high-quality, and great-looking, grab these and style them with endless possibilities.
Paisley Plus Size Flare Pants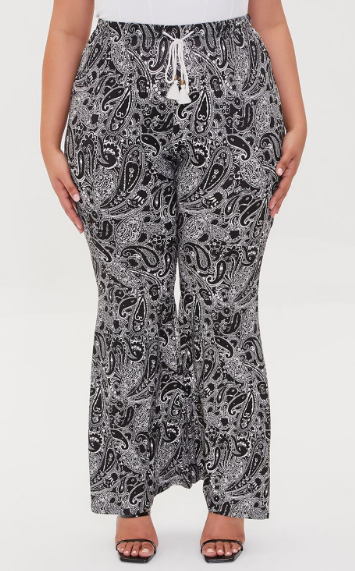 Any type of relaxed and paisley patterned flare pants will do the work for you. It can actually make a big difference as you can pull these off from running errands to grabbing coffee with friends. You can style it casually by pairing this with a crisp white tee, drippy sneakers, and add a cap on your head to create that perfect cool girl vibe we all crave for. And if you wanna go all-in with this plus size flare pants, style them for a full-dressy event with floral tops with puffy sleeves and visible details to stand out.
Plus Size Super Flare Pants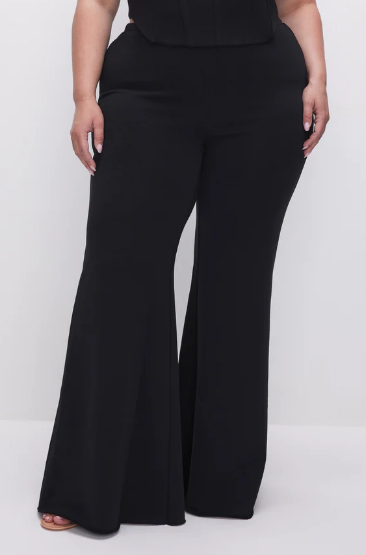 These cool and chic flare pants are the perfect example of maintaining the minimal and dressy vibe all in one. These can be styled casually by pairing these with black cropped tee, a black cap, few gold accessories, and what else? Of course a crossbody bag for THAT GIRL vibe. For the dressy outfit, pair this up with a fancy top, or you can also wear a tank top and add a fancy blazer on top, or for fall season you can add an oversized sweater to complete the look.
Plus Size Faux Leather Flare Pants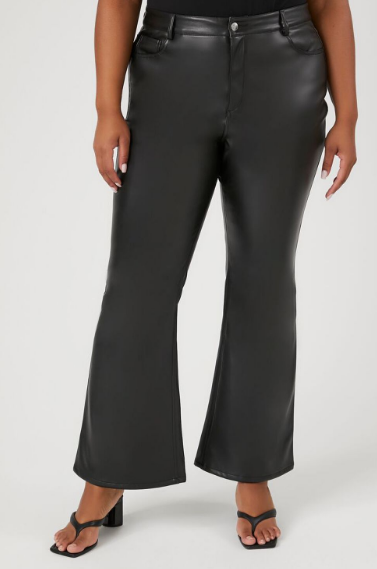 Well well well, what can we say about the leather pants? Evergreen, timeless, versatile, and easy to style with many of our wardrobe staples. Leather flare pants can make so many standout outfits which will be the best options from transitioning from spring to fall and from fall to winter. So, there are endless ways you can style these, for spring and fall you can style them with tank tops, cropped tees, cropped light blazers and sandals for the win. And for the winters you can style them with oversized and hooded sweaters, knitted tops, warm and body-hugging shirts and any kind of boot styles whether you want to add knee-high boots or you just need a little hint of ankle-boots, whatever suits your look best.
Plus Size Pull-On Flare Jeans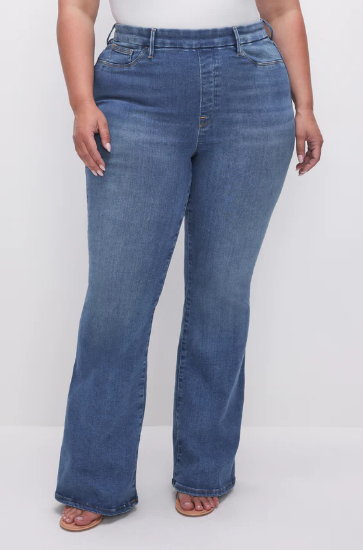 Jeans? A must-have for every other person, whether they are into minimal and chic vibes or playful and bold vibes. Jeans are truly something we can never let go of, it is highly timeless and more than easy to style for any occasion. These plus size flare jeans are just too good to be true for me, these can be styled with all the cropped tees, button-downs, casual and dressy tops, blazers, jackets, and even coats. What I mean is it is easily mixed and matched with everything we already own and obviously looks great on all body types.
Plus Size Ponte Knit Flare Pants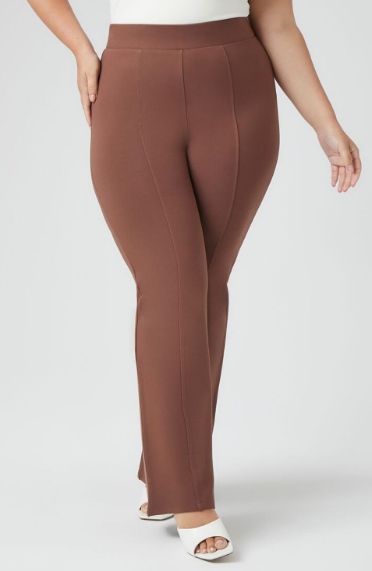 I had a look at this one, and the first thing that came to my mind was what a perfect neutral shade for all year around but for fall season, this one is gonna be the go-to for me. So, I would love to create manu brunch outfits just by pairing these flare pants with the staples in my wardrobe. This can be pulled off casually and in a fancy way so effortlessly that I cannot even explain. So, don't hesitate to mix and match and play around with an item unless you have found at least 10 ways to style the same piece.
Conclusion
Plus size flare pants are a versatile and stylish addition to any wardrobe. With their flattering fit, comfort, and endless styling possibilities, they are a must-have for all body types. Invest in a good pair, and you'll never regret it.
UP NEXT: Stylish Leather Pants Outfits That Are All Over This Fall Season