Are you a girl who's signature look is just a black eyeliner wherever you go? You must be craving something new for your eye makeup looks, well, no worries there are a bunch of ways you can incorporate color in your eyeliners. The color I would personally suggest would be "Green" as however you do that, whether thick or sleek, all-glam to barely there, there are a lot of ways you can achieve perfect green eyeliner looks.
Choosing to switch from black eyeliner to green eyeliner looks can be something that can make you have second thoughts, but if you are worrying how bold it will look then please stop here. You can even make the neon subtle, and any light color appear the boldest of all, so what I meant to say is it's entirely how you do it.
Green Eyeliner Looks You Should Try
Whether you want a soft and subtle green eyeliner look or you wanna go all-in for the makeup trend by opting for an all-glam green eyeliner look that speaks for itself, ahead you can find your inspiration.
Barely-There Neon Green Eyeliner Look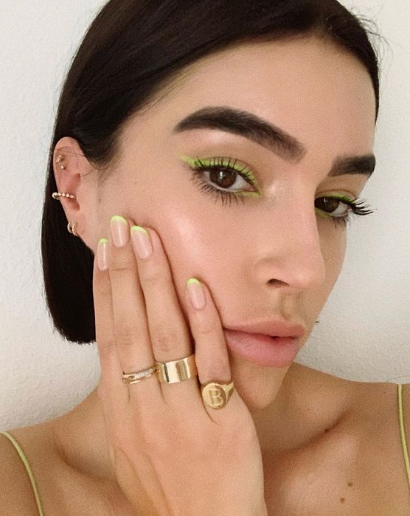 There is something about minimalism, right? How cool this barely-there neon green eyeliner looks. Well, it is too easy to recreate as you just need to take your neon green eyeliner pencil and start from your eye corners to the slight wing, a perfect soft eye makeup look for night time plans and hangouts.
Thick Green Eyeliner Look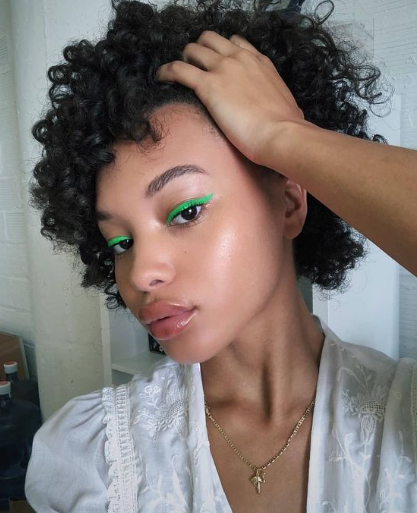 A classic eyeliner look must be on the barely-there eyeshadow in nude or you can also the eyeshadow if you wanna go all natural, then you need to add a thick layer of classic green eyeliner to create the perfect eye makeup look that look the best thing ever with glossy and nude lips.
Winged Green Eyeliner Look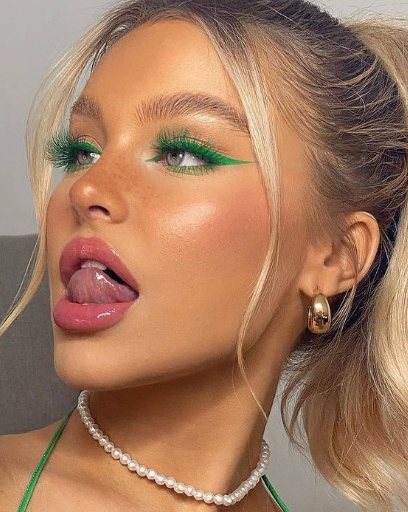 A green winged liner is a perfect choice for when you need to give a playful twist to your overall soft makeup look. You can easily achieve this by starting your eyeliner from the corners of your eyes (give them a playful wing too), then take it to the high defined wing at the end. Love how the green mascara looks with the eyeliner (a perfect monochromatic eye makeup look).
Double Winged Green Eyeliner Look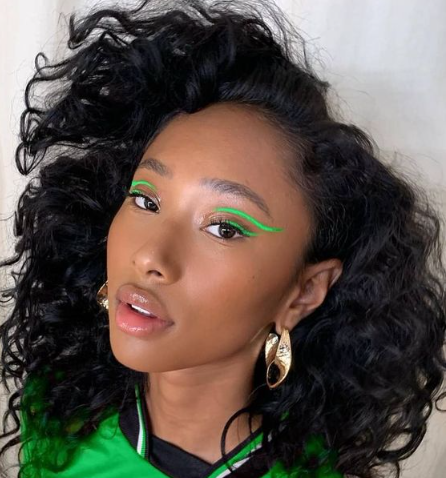 A winged eyeliner, how about two? Well, look how gorgeous this one looks and it looks great for the bold girls and the ones who are always on the lookout for something new. To get this look, you need to do a winged liner only at the end not from the eye corners, and then on the top of the eyelid do one more winged eyeliner and make it longer then the bottom one.
Outlined Green Eyeliner Look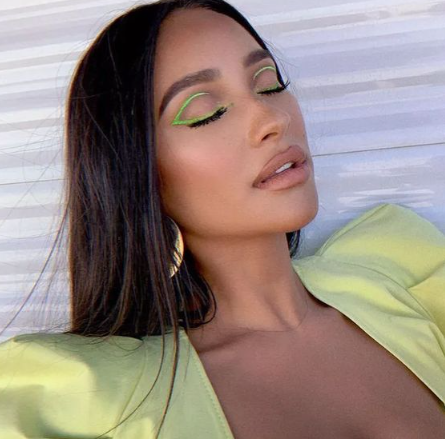 Here is another way you can achieve a double eyeliner, this one is achieved by outlining your eyelids with the green eyeliner till you are very close the eye corners, and on the bottom you create a winged liner from the eye corners to the wing and then add mix the lines together to perfect the outline effect.
All-Glam Smudgy Green Eyeliner Look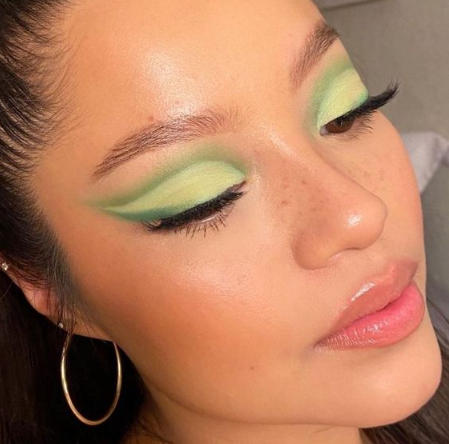 Last but not the least for sure, For the ones who want to achieve the bold green eyeliner look, this one is what you were looking for. Lets see how you can get the look, first take a smudge eyeliner and give yourself a wing only at the end of your eyes, then draw a double eyeliner on top of your eyelid and match its line with your wing (without spoiling the wing shape). Now, fill the empty space inside the outlines with a lighter shade of green eyeshadow. Lastly, smudge the eyeliner outlines a little more if you have not achieved the desired look and ta-da you are good to go.
Conclusion
Incorporating green eyeliner into your makeup routine can elevate your look and add a pop of color. With these six green eyeliner looks, you can experiment with different styles and find the perfect fit for you. So, give it a try and keep your eye makeup game on fleek.
UP NEXT: Simple Halloween Eyeliner Looks You Can Create In Minutes