If you are like someone who doesn't go big with the Halloween excitement and prepare everything a month before, then girl, we are on the same page. And this lazy nature of ours always makes us late for our halloween parties and events. Well, as someone who never actually created a look that's all out with the Halloween thing, I always go for minimal and less time-consuming looks whether it's makeup or costume. As the Halloween era is not far and just around the corner, I was on a hunt for cute and simple ways to apply eyeliner for myself and I found a bunch of them that suits every skin tone and personality really well.
Quick Halloween Eyeliner Looks For You
From a minimal spooky design to a one with doodle art that's spooky enough to scare someone, choose your favorite and rock these on your next event.
Thick Spooky Eyeliner
First thought I got after having a look at this was, are these smokey-eyes without the smoke? Yeah, kind of. Love how effortless spooky vibes it gives to your look. Get the look by starting with a winged liner and make a thick liner on your eyelids with a jet black eyeliner to achieve the quick and stunning Halloween eyeliner look.
Spider And Pumpkin Hint Eyeliner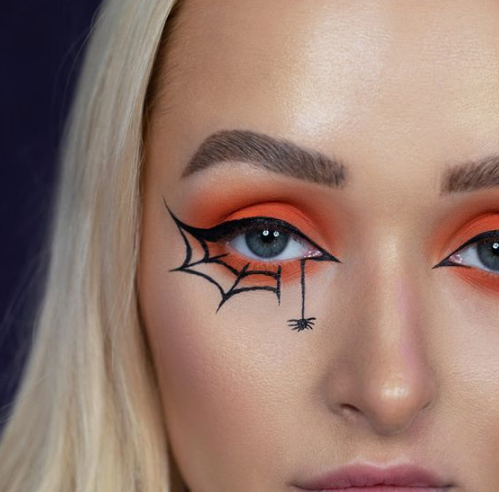 We are ditching all the all-black and bold eye looks this Halloween and opting for something unique and minimal to make a statement. Start with a pumpkin-orange eyeshadow and then apply a winged eyeliner like you do, make the wings longer and keep the length till the inner corner of your eyes. Then start drawing the spider net and lastly draw a hanging mini spider from where you finished the eyeliner in the inner corners and you are done ta-da.
Dripping Blood Eyeliner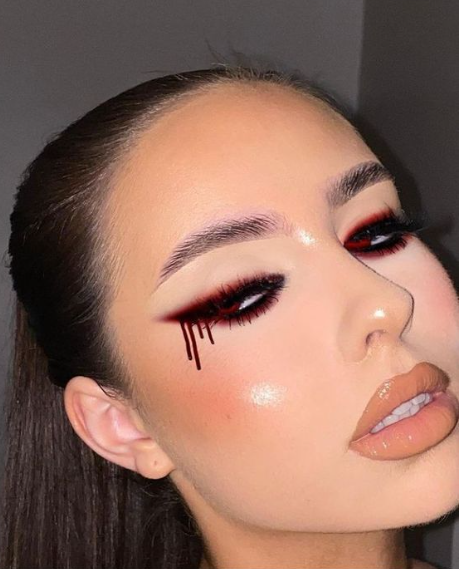 Dripping blood makeup looks are everywhere in Halloween, so why not step into the trend and make a statement? How gorgeously spooky this looks, just have a look and admire the look before we actually achieve it. So, start by applying a thick black eyeliner upper lash line and lower. Then take a red eyeliner and create a smudgy eyeliner over the black one and then start drawing drips and smudge it so it looks as natural as possible.
Boo Eyeliner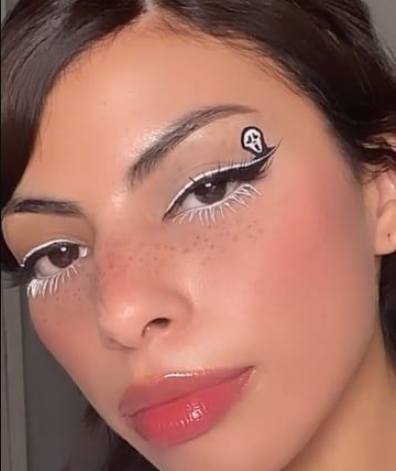 We all love how easy it is to create the boo, whether in costumes or makeup we can just add a little doodle of boo and we are good to go and perfectly ready for Halloween events. So, first you need to do a wing liner then add a white liner on top of it. Right where the wing ends doodle a boo and lastly wear a white mascara on your lower lashes and black mascara on the top lashes to create a perfect balance of the boo color theme.
Spooky Drip Eyeliner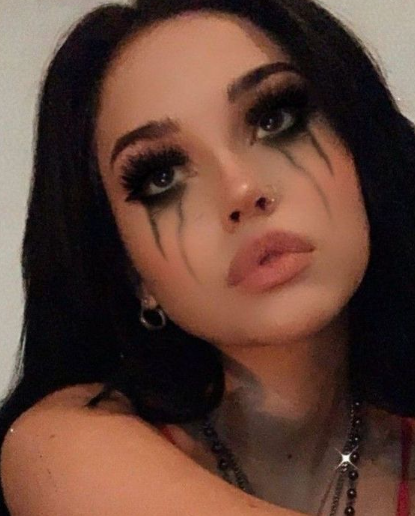 This is the quickest most classiest Halloween eyeliner looks one could go for. This eye look is extremely easy to create, just start by applying a winged eyeliner above and under your eyes then apply a thick layer of mascara. Lastly mash and mix to create a drippy effect above and below the eyes and you are all set to rock the event.
Products Used
| | | |
| --- | --- | --- |
| Lancôme - Liqui-Pencil Eyeliner ($23) | | ColorPop - Orange Shadow Palette ($14) |
| | | |
| --- | --- | --- |
| Make Up For Ever - Color Liner ($22) | | Glossier - Pencil Creamy Eyeliner ($16) |
Conclusion
I love these Simple Halloween Eyeliner Looks as they are so easy to create and can add a spooky touch to any costume. Whether you go for a classic wing-eye or a more dramatic spider design, there's something for everyone. Plus, they're quick to do so you can spend more time enjoying the spooky activities.
UP NEXT: A Guide To Choosing And Applying Eyeliner For Almond Eyes