When we say orange is the new black we mean it. Orange nails are so in yet so underrated at the same time in my opinion. The color orange is for some reason the best nail color possible in the fashion and beauty industry, it has a warmth, brightness, mood-boosting appeal which is perfect for any season.
Since we all must be done with all the pinks Barbiecore gave us throughout the year, it is high time we start valuing the value of orange and the amazing shades of it. While orange is highly versatile, bright, officially autumn color, and just too good to be true, it comes in a variety of shades and is versatile enough to wear from summers to spring and fall to winter in an effortlessly chic way.
Cute Orange Nail Designs For Every Season
Let's get right into the depth and versatility of orange nails from bright neons for summers to burnt nails for fall.
Orange Nail Designs For Summer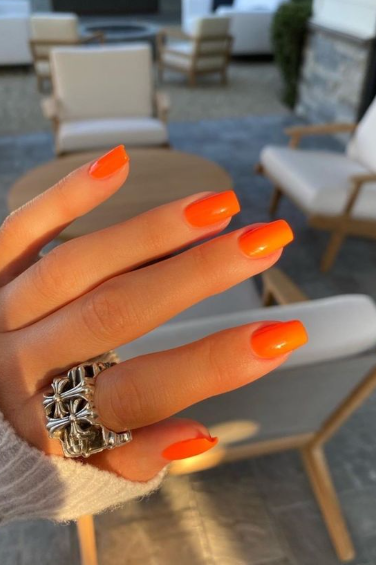 Summer season calls for all things neon, bright, vibrant, and mood boosting when it comes to color choices.Well orange is here to offer all-in-one with these solid neon orange nails inspo. Who doesn't love eye-catching solid colored nails? These are perfect to flaunt all summer long.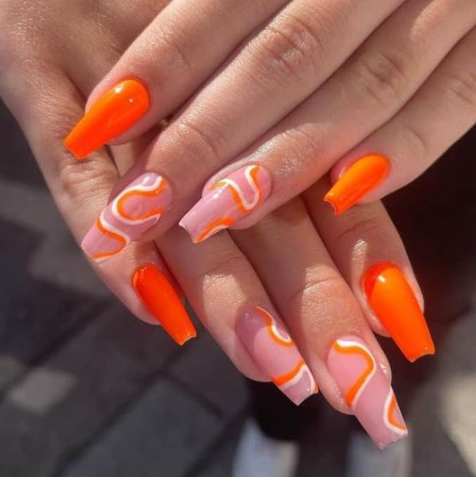 And if you don't wanna go all solid with your summer nails, then we also have a swirly twist to the classic solid nails which can give a makeover to your boring one-colored nails when you are not in a mood. This nail design is trendy, just add orange and white lines swirl to the two fingertips of each of the hands and paint the other ones with solid orange to give a twisty look to the overall nail design.
Orange Nail Designs For Fall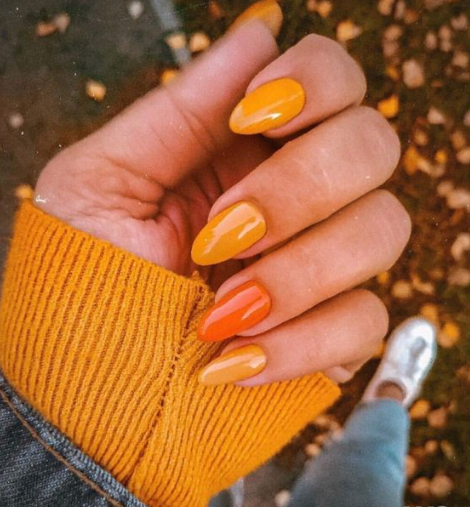 For fall we go a little warm on the shades of oranges to add a hint of the coziness fall calls for. Here we paint a mix and match of two different shades of orange, one is a perfect orange and the other one is hinting a mustard tone to the color which feels just perfect for fall season.
Let's add a hint of pumpkin spice and everything nice to our nails this fall. How adorable this looks is making me quickly visit the salon to get my manicure done just right now. If you feel the same opt for these nails by adding pumpkin art on one of your nails and paint all the other ones with a solid pumpkin orange shade to perfect the look.
Orange Nail Designs For Winter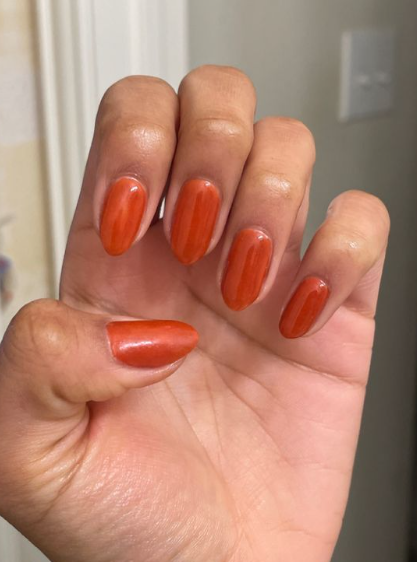 A coppery nail design makes you think of all things cozy, from nuts to coffees and from blankets to shrugs, so why not paint your nails with them too? Well the shade is highly eye-catching yet gives all those winter vibes.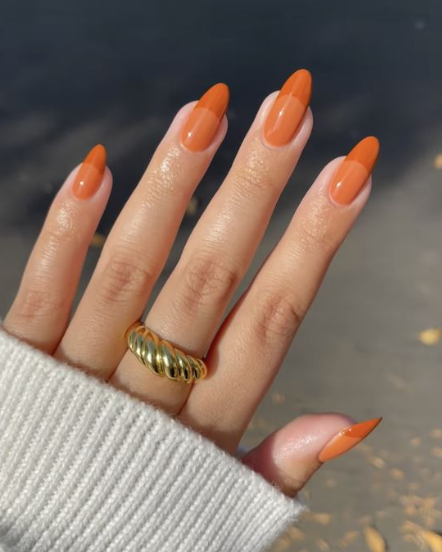 Another cozy orange nail design I loved at first sight were these. A trendy, two-toned, warm, and a perfect winter vibe nails what else we dream of? These are too simple to create even from the ease of your home. Just paint half of your nail with a soft toned orange shade and the other one with a bright yet warm toned orange color to get the look.
Orange Nail Designs For Spring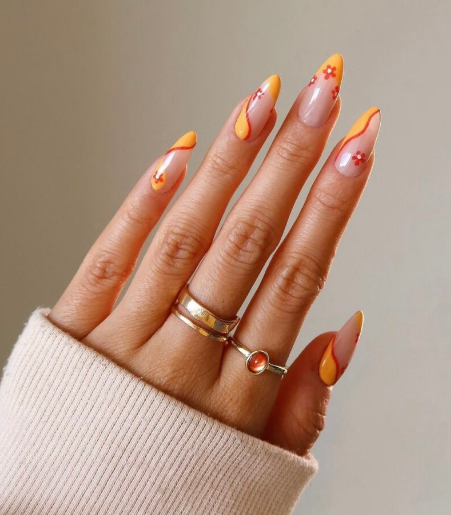 Spring brings blossoms and flowers and we bring them to our nails. All the bright and vibrant shades of orange come together to make a perfect spring nail trend. Go swirly and floral at the same time to make a statement and never have a boring spring manicure ever.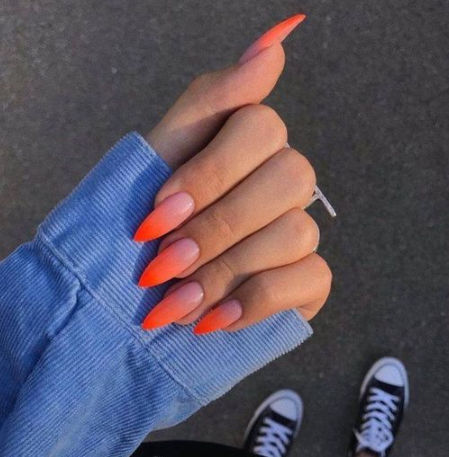 How can my favorite picks not involve an ombre design? Yeah, not possible. Ombre nails are versatile enough to be around all years, no matter what the season and occasion is. By adding just a pinch of bright color to the tips and a soft shade to the bottom of your nails can give you the perfect orange ombre for spring.
Conclusion
I am more than sure that at least one of these nail ideas inspired you to try out orange nail designs. It's a beautiful color that deserves more attention in the world of fashion and nail art. Whether you're going for a solid color or a fun pattern, there are so many options to choose from. Don't hesitate to make a statement with your nails and enhance your entire outfit. The hardest part will be choosing which design to go for!