Who said glitter nails are just for the barbie dolls, instagram models, or kids. Well, let us prove you wrong here because adults love glitter and gold. To be very honest, I have seen many adults flaunting that in square nails, almond nails, or even acrylic nails. Despite the shape people go all-in with glitters whether they have short nails or long. Glitter nails are the most stunning choice if opt for wedding nails, french tips, and even swirl nails. Glitter nail designs are so versatile that I cannot even stress this. I hope you are not blinded by the glitter nails myth that they are childish and not-so-adult but they are. You can get yourself glitter nail designs in a variety of ways as there are all-glitter nails out there and there are minimal to barely-there glitter nails as well. So, it totally depends on you and what your vibe is for getting the perfect glitter manicure for yourself.
Glitter Nail Designs That Actually Sparkles
No matter how you like your manicures, minimal? Go for a glittery double french for enough minimal vibe or go big with the rainbow french tips or stardust manicure to make a bold statement. Ahead, you will find a bunch of stunning glitter nail designs which are suitable for all kinds of personalities.
Glitter Double French Tips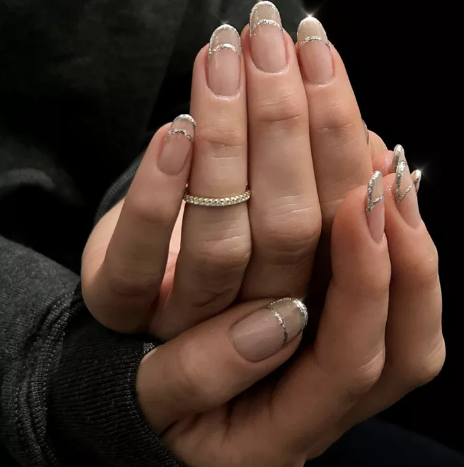 Double french manicures are always a great idea when you want a twist to your regular french mani. This glittery double french manicure is anything but boring to be honest.
Swoop Glittery Thick French Tips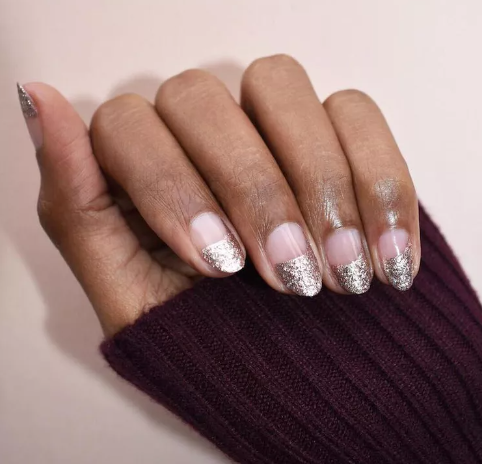 Thick french tips were so on-trend in the 90s and we have seen so many famous celebrities rocking the iconic thick french tips gorgeously. Nowadays, the thick french manicures are getting constant upgrades and versatility like this glittery one which is so good.
Glitter Dripping French Tips
Dripping nails are just too good to be true in pastel, glitter, and embellishments. This one is a great choice when you want to make a bold statement but don't wanna go all-out with that. The perfect balance between minimalism and boldness.
Stardust French Tips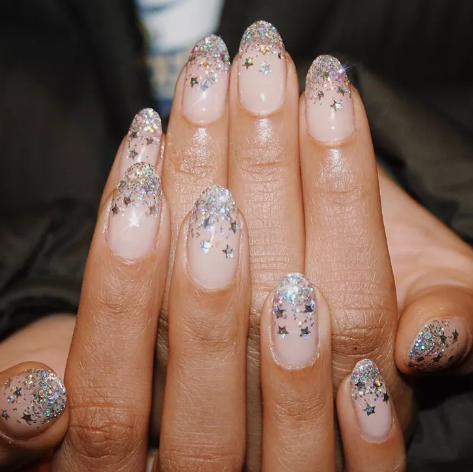 Here is another one like dripping nails. We love the appeal of this one as there is nothing but the stardust you see on the tips of your fingers and who doesn't want to add a little sparkle to the tips? That too with a stardust nail art?
Glittery Rainbow French Tips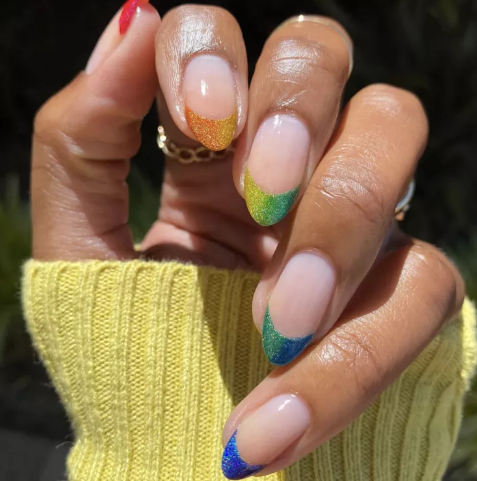 You are wrong if you thought disco and glitters only look amazing in silvers and golds. Here is a colorful twist on the regular glitter french tips by painting your nails in glittery rainbow colors.
Barely-There Glitter Nails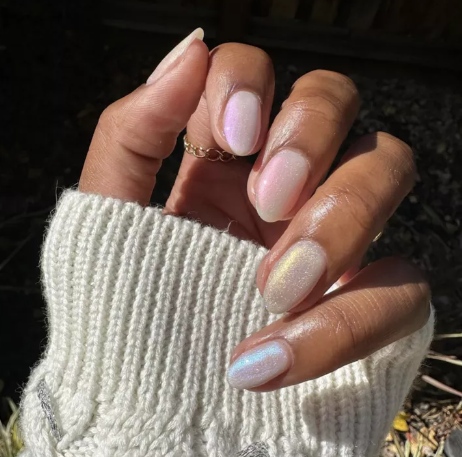 What's more elegant than a no to barely-there glitter nails that are the perfect balance of minimalism and feminine power that's screaming. This one is most loved in today's era as it gives a perfect princess and barbie-inspired vibes that sounds too good to a soft feminine girl.
Polka-Dot Glitter Nails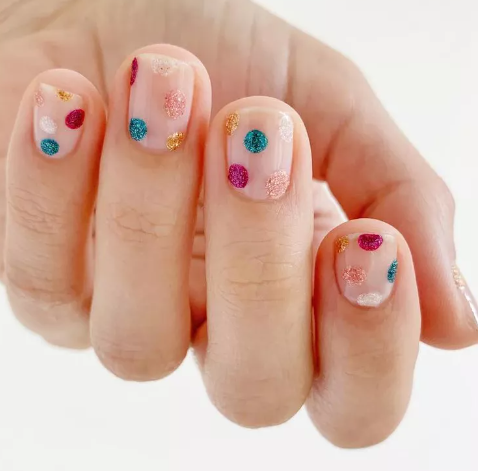 It's the soft version of rainbow nails as this one is subtle, tiny, and too good to be true honestly. Polka-dots has made its place in fashion already and without a doubt they look equally gorgeous in manicures too, as we can see here.
Sprinkled Glitter Nails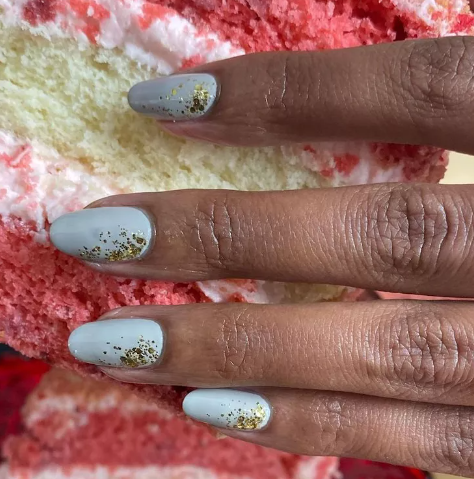 Have a thought about your favorite dessert sprinkled with the most mouthwatering delights on top, yummy, right? Same goes for this manicure, a gorgeous shade of ice blue and a gold glitter sprinkle on top is just the perfect manicure you need next.
Cuticle Glitter Nails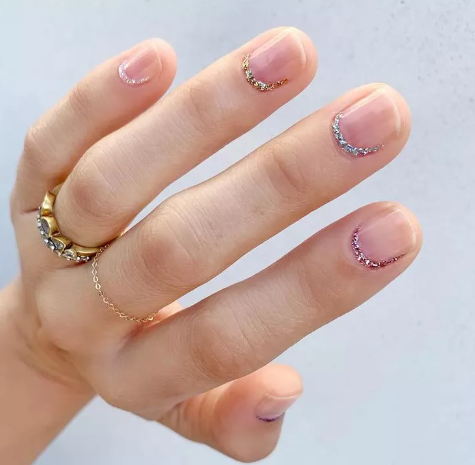 We know alot about french tips and all, but what about cuticles? They do look as fine as any other nail art to be honest. This one is a great example of a gorgeous, minimal, and unique manicure ever.
Glitter And Gold Nails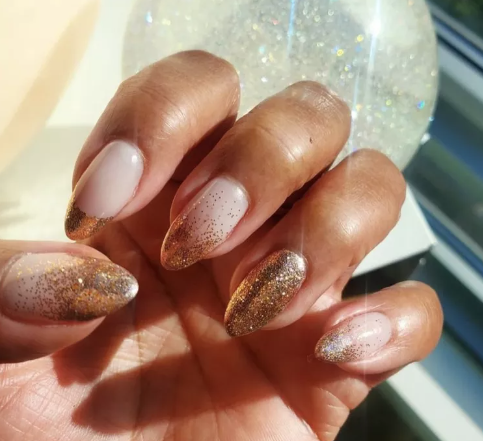 Heard of dipped nails, gold french tips, and solid all-in glitter nails? What do you think if we mix all of them and get a manicure out of them all? Well, we did exactly that here and we are loving the results.
Gold Accent Nails
As we said glitter nails aren't always about silvers and golds, you can also mix and match solid colors with that. Here a royal blue color that is so royal that you can feel it in your heart and the gold accents that is giving a pop of more power and self-esteem to you. Love this nail design so much already.
Conclusion
If you're looking to add some sparkle to your manicure, these glitter nail designs are the perfect way to do it. From subtle accents to full-blown glittery nails, there's a style for everyone. These designs are sure to elevate any look and add a touch of glamor to your day.