While according to the nail trends of the year, all we are spotting are red nails, square nails, glitter nails, ombre nails, and so many other manicures that are just too good to be true but what we see most constantly is that all of them are mostly spotted in short nails. So, what do we long nail beauties do? We also slay dears, because why not?
Today we are going to reveal to you some of the most gorgeous and timeless manicures that fit perfectly on long nails. All these long nail ideas are versatile and so on-trend that whether you are a solid lover or a playful animal print lover, you will find every kind of manicure inspo for your long nails.
Long Nail Ideas That Are Worth Trying
From classic black and white nails to fun and bold marble nails, you will get to see all the manicure trends and personalities rocking these anytime anywhere.
Chocolate Monochrome Long Nails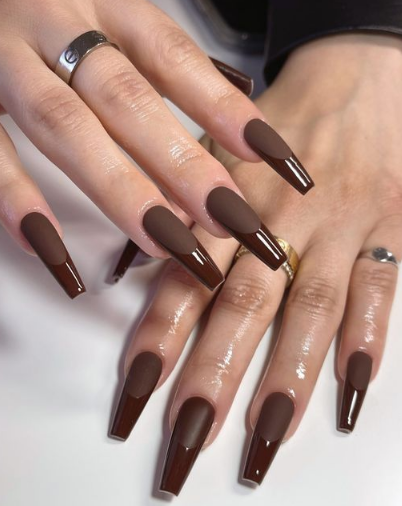 Love how yummy it looks and feels on the nails. We all want to freshen up our boring and regular manicures and we are always ready to opt for anything fun and delicious to the eyes, so here is a great great choice for a fall-perfect manicure. While I personally opt for warm tones for the fall season, you can also opt for these for springs as well. The defined french tips are looking too good and making this mani a perfect monochrome effect.
Chrome Long Nails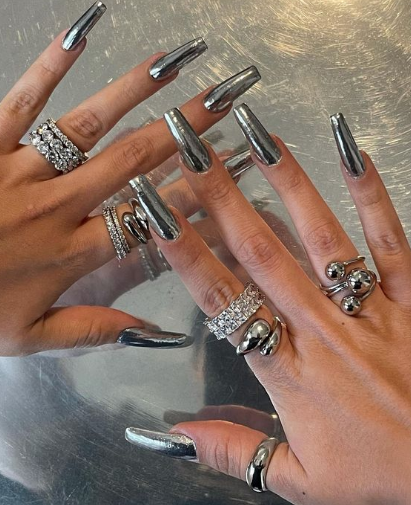 Is there anything more standout than these chromatic long nails? No! These are so simple and look amazing with just a little effort. For achieving this long nail idea, first you need to paint your nails with a solid silverish nail polish and do remember to apply it very smoothly so there are no cakey effect after you apply the top coat, after that you need to add chrome powder until you get the desired chrome effect and ta-da you are all set!
Marble Long Nails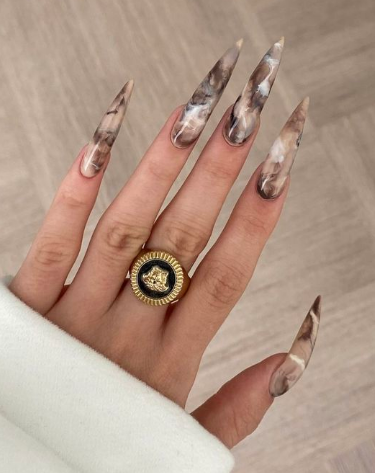 Marble nails are one of the classic manicures out of other classic manis, and it's my personal favorite as well. Marble nails are just too simple and versatile and can be created according to our personalities, for example if we are into subtle and soft tones like the one above we can opt for white, metallic, and opal. While for the bold marble nails we can opt for cobalt blue, reds, and neons as well.
Barbiecore Long Nails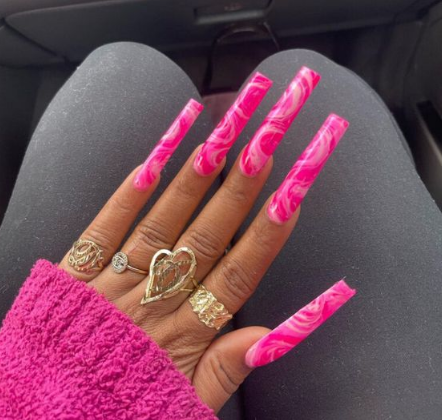 We all understand the pink power for sure, and this past year how much barbiecore we have seen is making us think of more and more. This pink nails idea is kind of a mix and match of a cotton candy and barbie mani with perfectly twisty swirls. All a feminine girl needs is this one to channel her inner barbie and soft feminine side to the world.
Black and White Coffin Long Nails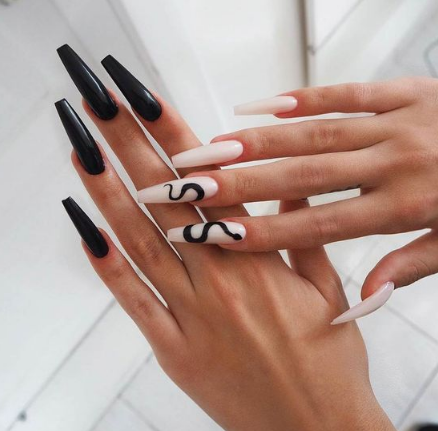 Black and white is a combo that is so timeless and classic, no matter what season, what year, or what manicure trends are going on top. And these are just too good to be true with a playful snake nail art. This manicure is also called a dual tone mani as on the one hand we have solid black nails and on the other we have a nude white nails and a snake print to add a playful and fun twist to the classic manicure.
Cute Floral Long Nails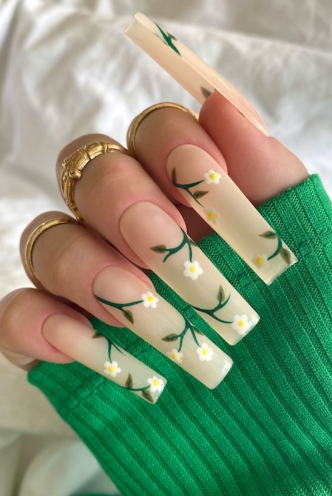 As I spotted these, quickly came to my mind (sunshine colors, flowy dresses, bold and vibrant colors, and lots of florals, of course). This is the cutest, most adorable way to flaunt long nails for sure. A hint of lilies with a standout leafs and a nude to barely there nail polish, a perfect spring dream for a dreamy girl.
Zebra Print Long Nails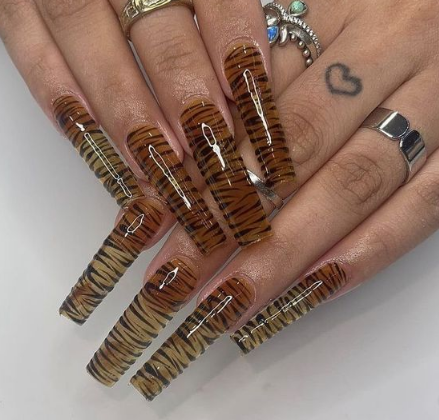 Animal print is always fun in manicures, and this is no exception. Zebra print looks so cool and perfectly Y2K on a baddies hand. Opt for a black and white if you want a playful but a realistic way to flaunt and opt for this brown and black to make a real statement.
Conclusion
Long nails are the perfect canvas for expressing your creativity and style. From bold colors to intricate designs, the possibilities are endless. With these irresistible long nail ideas, you'll be inspired to try new looks and elevate your nail game to the next level.
UP NEXT: 11 Best Neutral Nail Designs You Will Fall In Love With