All of us once had a lot of difficulty figuring out in which order skincare products have to be applied, right? Well these new products are becoming confusing day by day with their different ingredients and jobs to do. Same for the serum and moisturizer, I have heard at least thousands of people commenting and asking questions like "do we need moisturizer if we have already applied the serum" and something like "haven't moisturizer is enough for hydrating skin" and more like "doesn't my skin be too oily if i use both" and many more like this. I am here to say to everyone of you that please take a deep breath and let me quickly explain to you that it's not as hard as you think to decide whether the serum comes first or moisturizer.
Serum Before or After Moisturizer?
First of all, if you have that type of question "do we really need serum in our skincare routine?" or "isn't moisturizer enough?" or "what does a serum actually do?' then let me answer all of these concerns of yours real quick first so we can get into the applying order.

Sephora - Super Glow Vitamin C Serum ($20)
So, the thing is yes, we do need to add serums in our skincare routine despite the skin type despite the skin concerns and even if you don't think so you need a serum in your routine. The reason for this is, serums contain Vitamin C & E, Green tea, Black tea, Hyaluronic acid, Niacinamide, Fruit enzymes and many other amazing ingredients which helps us get rid of dull and lifeless looking skin. All these ingredients are extremely beneficial for our skin health, it will make our skin healthier, glowing, hydrating, nourishing and help brighten our natural complexion. So, even if you have oily skin or dry skin it is equally important for every skin type to include a serum in their skincare routine.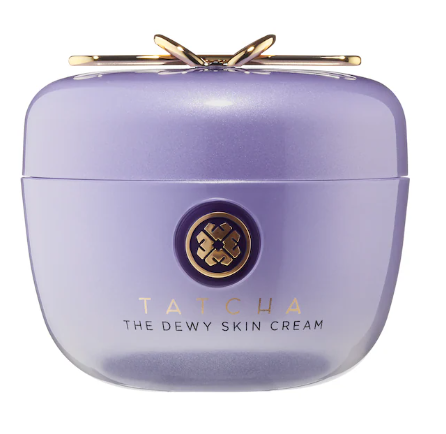 Tatcha - The Dewy Skin Cream & Hydrating Moisturizer ($72)
Now that we know what a serum actually is and how it benefits the skin it's time to know what a moisturizer does and how it works with the serum. Well the job of moisturizer is to lock in the moisture and hydration that the other products applied before it leaves on the skin, we now know why a moisturizer is called an emollient. A moisturizer is a must just like a serum, they both have their own importance just like a cleanser, SPF and other skincare products. For moisturizer the only thing you need is a lot of experiment and research to find the one that actually delivers you the right result you want. Moisturizers are specially manufactured according to skin concerns, skin types and protecting and locking the moisture of serum.
Final Words
After every detail about both products let's get into the real dilemma of "face serum before or after moisturizer". So, the answer to the question is, use a serum before a moisturizer as the serum provides hydration to the skin and the moisturizer helps lock the moisture and hydration. The correct order of these items is important to follow to actually help make your skin health better and effective. And always choose products according to your skin concern so it's equally hydrating and helpful in your skincare journey which will end up giving you a perfect skin.
UP NEXT: Best Serums For Sensitive Skin That Are Actually Effective